THE EXPERIENCE BLOG
ON THIS PAGE: A travel writers top flying tips | Spotlight on Italy | Aussie GP Experience
Michael Lamb reveals some tips of the trade to make your next longhaul journey more enjoyable. Source: A travel writer's top flying tips; The New Zealand Herald, 1st December 2015.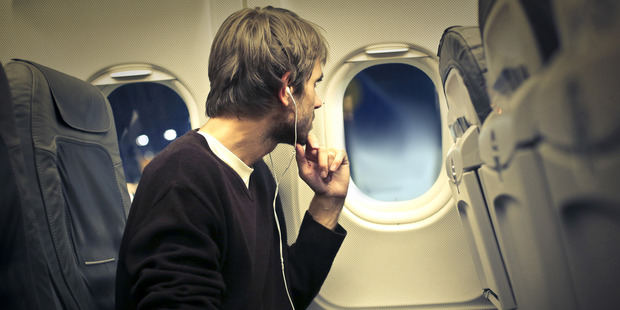 Travel writers are always squirrelling away little hacks in the back of their minds. Here are 10 good tips that walk the line from the clever to the borderline unethical.
1. Think seriously about Premium Economy
Doing back-to-back long-haul flights to Europe is a path well-trodden by lagged NZers. Shop around and you might be surprised how low Premium Economy tickets can be nabbed for. On my last trip to Europe, I paid just $750 each way for Premium Economy - or $375 per long-haul sector on an Air France/Air New Zealand codeshare from House of Travel (not a plug, I paid list price). For that, I got priority boarding, Business Class meals, in-flight kit and service, a generously proportioned seat and double - yes double - baggage allowance. Some Premium Economy fares might get you lounge access too. But most of all, I got time; anything that helps you arrive fresher and fitter so you hit the ground running has got to be factored in. Especially if you're only away for a relatively short time, those few days not spent in a jet lag fug can mean much more upside on the ground at your destination.
2. Slip-on shoes
The benefits are clear: breeze through the security check without fumbling around on the floor yanking off your Converses or fiddling with your laces. The hard bit is finding slip-ons that look good - but they're out there.
3. Build the ultimate bubble kit
Everyone knows the benefits of noise-cancelling headphones, earplugs, neck supports, eyemasks and sedatives. Time to go next level - a bit of research and you'll find there are state-of-the-art solutions for these items now, which mean you could be seated next to a howling child in a thunderstorm and still be blissful. You'll be wanting something more along the lines of Alpine Flyfits for around $35 a pair (and yes, that is a plug, literally).
4. Select early, board last
Obviously, you choose your seat online, using a site like seatguru.com to pinpoint the best choices. For shorthaul flights (and I'm talking Europe here), boarding last - and I mean absolutely dead last - will give you the pick of the seat crop, often a whole row to yourself. Boarding last takes a bit of patience and holding your nerve as they start closing the gate but the rewards can be spectacular. Top tip: if you blag a row, sit in the aisle seat to "claim" the whole row - it will feel weird, but just go with it - and spread your stuff out on the other two. That way, if someone else wants to move to make space for their travelling companion, they won't grab the aisle and kill your three-seat quick-kip buzz. For international, where crew must have you in your allocated seat for take off, you'll need a different strategy.
5. Move like a cat
Long-haul Economy (taken only if you have ignored Hack #1) is so much nicer with your own improvised sky couch. Seatjumping is an art that takes vigilance, agility and dedication. As you're taking off, you have already identified your target seats. You have not unpacked all your stuff in your allocated seat, you have it in hand and you're ready. As soon as the flight levels off, move. Don't necessarily wait for the "seatbelts on" light to click off - judge each situation on its merits, depending where cabin crew are sitting and so on. Don't ask, take. Your reward is a bank of three or four seats all the way to flight nirvana. Deploy seat-blocking gear and firmly tell anyone who tries to seatjump into your space to go away.
6. Charm offensive
This one does cross the line into dastardly connivance but if it suits your mojo, hey, why not. I once bought a snack just before I boarded and was idly eating it as I wandered down the airbridge - and then got to the plane door with the packaging in hand. I knew littering in airbridges is punishable by a large fine, so as I boarded I made a joke of it with cabin crew, apologising for our relationship getting off to a "rubbish start" with me handing them trash. They laughed, we laughed - and I got the first-class treatment for the rest of the flight. I'm not suggesting you use this actual routine but finding some little unexpected thing to chat and laugh to the cabin crew as you get on board, can't hurt. Note: I don't recommend this as some lame excuse to try and flirt with cute hosties - they're professionals, they're not looking for friends. Whatever ruse you use has to be your own original gambit.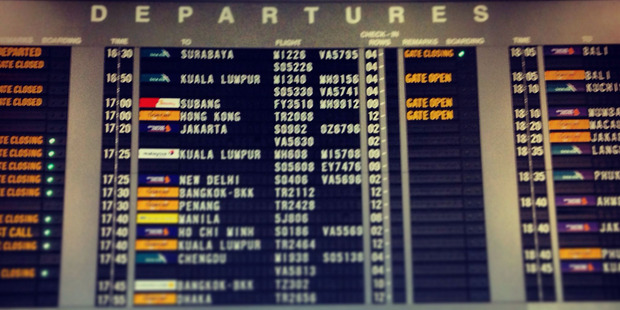 It pays to know your airports. Photo / 123RF
7. Know your route
There can be a noticeable rise in the collective cabin stress when the doors are shut and the captain announces a flight delay. Research is the answer - a site like flightaware.com will tell you the likelihood of a delay. Leaving Shanghai recently, I knew that historically, the flight I was on had a statistical delay time of 45 minutes. Sure enough, as soon as we were loaded the captain announced a delay. As everyone groaned I smiled to myself and enjoyed the fact that knowledge is power.
8. Be a travel blogger
Another of those cheeky ones, but if you travel a bit and can knock out a hundred-word flight review, build yourself a 10-minute website and next time you fly, contact the airline's PR people to discuss a freebie or wholesale fare. As an "official" travel blogger you might just get a warm reception. Or even a lovely upgrade.
9. Travel light, lose the fluids
For travel hacks, travelling light is the oldest one in the book. But with the ever-growing size of cabin bags - some of them expanding to be small suitcases - it's easy to get lulled back into a false sense of needing to take too much onboard. For my last trip, I bought the new MacBook, weighing just 920 grams, for full work and entertainment options, plus a top-quality multicompartment shoulder bag. And remember, you don't really need those fluids - especially when you've deployed Hack #6 and you sweetly tell the hostie you packed all your toiletries in your suitcase by mistake and would they possibly have a spare Business Class toiletry kit you could have? Course they do!
10. Know your airports
Preflight or stopover, knowing the latest facilities on hand at airports on your itinerary can be a big bonus. There could be a day pass for lounge access, or new R&R areas on offer. Or a restaurant tucked away on another level, which is free of the crowds. Pre-checking free wi-fi options is useful too. Fact is, the big hubs especially are always adding and upgrading facilities so bookmark their websites, do a bit of extra research, and every airport along the way could become your own private health retreat/business centre/refreshment nook.
By Michael Lamb
---
By Mel Allan, Account Manager - Travel, Christchurch
Italy is one of the most diverse countries in Europe and really does have something for everyone. From old favourites and 'must do's' like Rome, Venice and Florence, to less explored gems like Sicily and Sardinia, every journey is unique.
My very first trip to Italy was only recently in 2011 when I was lucky enough to go and stay with friends who had moved there for work. We stayed in the picturesque village of Frascati, located 20 minutes by train from central Rome and used that as our hub while going off and exploring for a few days at a time. On our very first morning, we wandered into the village centre to take a look and wound up conversing with the locals at one of the many caffes. For a stunning 3.00 we got to devour 'Bocconcini con Crema' (or cream puffs) which we washed down with the best espresso I've ever tasted. That was only the beginning of our love affair with Italy.
Being so close to Rome, we played at being tourists visiting all the famous sites: Vatican City, the Colosseum, Trevi Fountain and the Pantheon to name but a few. From Rome we headed North to Milan, the lakes region and Venice before heading back to our base in Frascati.
One of the most amazing places we visited during our stay was Sicily. Admittedly we originally decided to head there because of a fascination with the movie 'The Godfather' and the history of the Mafia, but once we arrived, we realised what a fantastic decision we'd made. After arriving in Palermo we headed for the coast with the intention of driving our way around as much of the island as possible in the 5 days that we had. Sicily is a diverse mix of beautiful coastal towns, centuries old villages perched on the tops of mountains, vast orange and lemon groves that stretch as far as the eye can see and home to Mount Etna, located in the eastern part of the island, which is Europe's highest and most active volcano (its last serious eruption was in 2002). The enduring memory I have of Sicily is not only of the amazing scenery, and the totally addictive local cuisine, but of the people that we encountered along the way. All were welcoming and eager to offer hospitality to outsiders. I would highly recommend a visit to this beautiful Island as part of any journey to Italy - you won't be disappointed.
And, in case you were wondering, yes, we made it to the village of Corleone for the sole reason of searching out the roots of the Mafia we hear so much about! We made the trek up the hill to view the original Don's house (which is still standing although uninhabited) and to the cemetery to visit his grave. We came away with the impression of a very well organised village and very friendly locals (not a horse head to be seen).
Mel's travel tips/recommendations for Italy:
Do a Hop on/Hop off tour of Rome - it's the best value for money and takes in all the main tourist attractions you will want to see. Tickets are valid for 24 hours.
Travel throughout Italy by rail is easy, quick and cost effective. Rail tickets can be purchased per sector or for greater flexibility if travelling for longer periods, then an Italian Rail pass is the way to go.
---
In Our Experience....Formula 1 Australian Grand Prix
By David Redmond, Account Manager
Last month I was fortunate to head to Melbourne and attend the 2015 Formula 1 Australian Grand Prix. I have not been to a Grand Prix before but it was definitely on my bucket list, so it was great to experience the event in a buzzing city like Melbourne.

The sheer scale of the Formula 1 event is unbelievable and is enough in its own right to marvel at, with the added breath taking action on and off the track. The weather was typically Melbourne, with scorching hot days mixed in with cooler moments and the odd down pour - all part of the experience. I am not sure that there is a city in Australia that can match the Victorian capital when it comes to putting on a world class event. The city is buzzing, the amazing multitude of restaurants and bars are all full, entertainment is everywhere and that is not even at the event!

Once in the precinct at Albert Park you are immersed in the motorsport world. From the muscle and power of the V8 Supercars to the screech of the Porsche Carrera Cup and of course the main draw card, the unparalleled speed of the Formula 1 Race Car. The sound may be slightly different but I can assure you these things move and handle like nothing I have ever seen. The speed simply has to be seen to be believed. Add to this the off-track entertainment - skate boarding legend Tony Hawke, the RAAF FA-18 Fighter Jet, the Motor Cross crew and much more. There is simply something at this event for everyone.

Overall an epic event which you must experience in what is simply one of the greatest cities in the world.
Highlights: Dinner at Chin Chin on Flinders Lane, (Order the King Fish Sashimi and the Ribs) and the unreal speed of the Formula 1 car. I can't quite put it into words!